Auge Ristorante and Spuntini Bar
Auge Ristorante, established in year 2000, has been renowned for it's modern Italian cuisine featuring quality South Australia produce. Renovation from several years ago has added the Spuntini Bar for guests to enjoy aperitifs or cocktails before going into the dining room, or have a more casual dining experience if you take the tables by the modern bar.
Auge Ristorante has a very clean, simple and elegant style, from it's interior decoration to the food & beverages presentation. It is truly a delight in every sight! We arrived and was welcomed warmly by a waitress, brought to our formal dining table and the waitress offered to take our jackets, something I absolutely love when restaurants do this – I believe this should be a standard of all fine dining restaurants! The waiter responsible for our table came to introduce himself, brought us the menu and got us started with our flow of sparking water. I was very impressed by him as he recognized me from my last visit where I had some late drinks with a few friends by the bar. He even remembered that I do not drink Coffee 🙂 I wished I got his name now, this gentlemen organised a round of cocktails for us, each is unique and off the menu. This makes you feel very special indeed.
We ordered a 5 course Degustation dinner and opted for personal choice, since we have non-beef diners and one who could only take soft food (teeth problems!). The waiter was very friendly, patient and helpful. After telling us the specials, he explained thoroughly each dish that we were interested in. I appreciate when waiters or waitresses help in the decision process, he truly showed professionalism and great understanding on what his restaurant is offering. He even stopped us from ordering the desserts first, as we may not get there.. LOL! I simply asked him to watch me perform! (Extreme Foodie nickname didn't come with a small typical Asian-size appetite!) The ambience in Auge is great for a romantic dinner, it's dimly lit means my photos from my humble iPhone5 will not be great, oops! So here we go:

Housemade bread with olive oil and black olives started our gastronomy adventure. The waiter served our special cocktails and left us to taste before coming back to ask us what we think of each, and then he told us what they are. I personally love the first cocktail that is Orange, Cranberry & Vodka. I also quite like the Frangelico, Cream, Dark Chocolate, Honey.. and I can't remember what else but there's quite a list of ingredients went in there. It looks like it's going to be very sweet and heavy, but it turned out to be quite light and easy to drink! I won't normally start my night with a drink like this but certainly this one fitted well. I have added the drinks I had in my last visit into this gallery, the Espresso Martini and the specialty McLaren Vale Beer was outstanding! The best was my first cocktail then, which was a once-off Strawberry Martini – I didn't even get a photo of it, it was too delicious!
Our entrees were served. We love the Sarde Agro Dolce the most! It's pan fried sardines, pinenut & raisin dressing with zucchini, oregano & petite leaf salad. The salad was really complimentary to the sardines.
We enjoyed the Suppli Dell Casa – risotto balls filled with mozzarella, tomato sugo –  which is really Arancini, I will only prefer it to have a little more cheese.
Next starter was the Cozze Marinate – SA mussels in shell, marinated with capsicum dressing, basil, parmesan crostini. The mussels were great, I don't usually take chilled mussels but this one was excellent. The Parmesan Crostini was amazing!
Unfortunately non of us were a fan of the 4th starter, Calamari Alla Veneziana, which was slow cooked local squid, black olives, saffron, red onion & tomato. It tasted very Mediterranean, which I'm not a fan of, the squid seems to have been cooked for a long time, very soft indeed, but I won't usually like my squid this way. Interesting dish tho, just a personal preference here.
At this stage, we were done with our cocktails and the waiter came to help me with choosing a bottle of red. I was really hoping to have Penfolds, somewhere along the line of RWT, or a nice, bold D'Arenberg, my all time favourite winemaker. Auge's wine menu only listed two Penfolds, which were not in my considerations. So based on the Penfolds RWT, the waiter suggested the 2009 First Drop "Fat of the Land" Seppeltsfield from Barossa Valley, SA. I've been to Seppetlsfield and remembered their excellent wines, so I went with this suggestion. I also have to say that I'm very attracted by the extensive list of Italian wines, which the waiter did recommend, I hope to return again soon to give them a try.
First 2 main dishes was pasta. We chose the Pasta Special – Risotto Del Giorno, it's arborio rice with blue cheese. This pasta was so flavoursome, risotto cooked to perfection. We enjoyed it.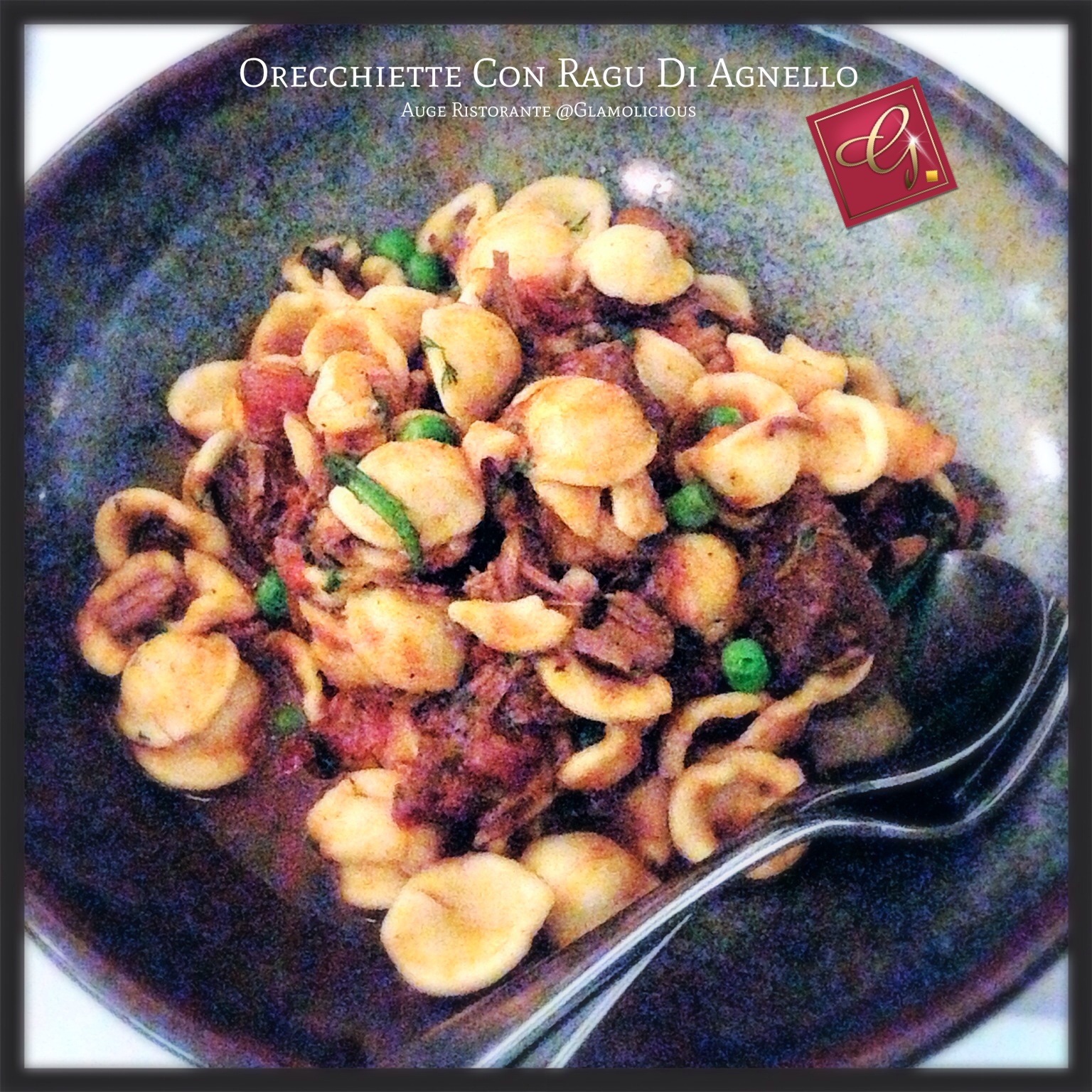 Orecchiette Con Ragu Di Agnello by Auge Ristorante
Next pasta was the Orecchiette Con Ragu Di Agnello, a "little ear" shaped pasta, slow cooked lamb, red wine, peas, mint. This was a stand out for me! I ordered this dish as it is a winter night, and it's not easy to cook a really good ragu. My expectations were high and Auge certainly hit my standard! The lamb was soft and the fragrant throughout the dish made me want to say in Manu's way… "Where's my sauce?" There was sauce, I just wanted more! LOL
3rd main dish was Porchetta E Radicchio – roasted pork belly, baby apple, celeriac puree, radicchio salad, balsamic dressing. We all love this dish, once it was laid on our table, we were equally attracted and couldn't wait to dive into it. It's not the best pork belly I've had, but certainly just made it to the top of my list. I wished the cracklings were all equally "crackly".. half of it had turned tough & chewy. The cooked baby apple was delicious and looks amazing, I really like the way it's done, rather than the usual apple sauce, this really lifted the dish!
Last main dish was Pesce Del Giorno which is local market fish with fresh local condiments. This night they had pan fried Atlantic Salmon, cooked medium rare. We all love Salmon and I had some really great salmon, when the waiter said it's cooked medium rare, it sounds so perfect for me. However, it wasn't the case, I find the Salmon thoroughly cooked and a little dry. We were also getting pretty full at this stage, so we didn't finish this dish. We prefer to make room for desserts!
We also had 2 sides, not pictured: Cavolo Nero is sauteed kale, crispy pancetta & italian herbs; and Barbabietola is roasted beetroot, mint & woodside goats curd. Some of us find the Barbabietola quite bland. I love kale but first time having it sauteed as a side, not too sure what to think about it yet! I don't mind it but I won't order it again.
Finally it's time for desserts, yes, we had room for it! I think the waiter was amused by our pursue of the desserts, we courageously went for the full dessert tasting platter! The lot consisted of:
Tiramisu All' Auge – citrus zest mascarpone, passionfruit syrup, nut liqueur, coffee & choc crumb
Le Zeppole Napoletane – neopolitan style donuts filled with assorted jelly, dusted with cinnamon sugar
House made vanilla bean gelato
Mela & Rabarbaro Crumble – apple & rhubarb crumble, yoghurt sorbet
Salted Caramel Dark Chocolate topped with Burnt Meringue served with warm goat's milk smoothie
Another dessert which I can't remember what it is and not on the menu, is the round meringue-like sandwiched by two wafer-crisps.
Desserts were delicious, the Salted Caramel Dark Chocolate and their house special Tiramisu was our favourite! Tiramisu in particular was very unique, the subtle zesty-ness made it surprisingly flavoursome. The amount of liquer was perfect too! We wished we had more room in our tummy to finish up the warm Mela & Rabarbaro Crumble and the Le Zeppole Napoletane, a dish that is new to me and very filling. The many scoops of gelato in the middle of this tasting platter is the perfect "refreshment" in between the different desserts!
This was the 2nd time I have dined at Auge, first was summer in 2012, which left a great impression & made me want to return again when I next have a special occasion in Adelaide. The menu then was very light & refreshing, this time was winter hence it's warm & filling. Auge said the A stands for ALL, we have truly witnessed the meaning of this, from the moment you stepped foot through the giant brass doors, the waiter, the guys & girls that scurried the food from the kitchen to our table, the chefs – everyone clearly showed how much care & attention they put on every guest, every request, every details. It's no wonder how they won so many times over The Best Italian SA award, Restaurant of the Year SA 4 times so far,  Best Italian Australia in 2007 & 2009, Hall of Fame Best Italian SA 2008 & 2012. The most recent awards are "Best Italian" 2013 by The Advertiser (Adelaide Food Guide Awards 2013), Three Fork Rating which represents 'Elite Dining', and Experience' 2013.
Like Auge Ristorante on Facebook, Follow them on Twitter and visit their website for seasonal menu at www.auge.com.au
Ofcourse, if you like our blog and wants to see more photos of our wine & dine, as well as our other casual slurp & munch that is not always blogged, Like us on Facebook, Follow us on Twitter, Love us on Instagram and Heart us on Pinterest!