A peaceful hideaway from the hustle and bustle of Bali. Wapa di Ume Resort is a boutique resort in Ubud with rice fields as its centrepiece, placing you truly at one with nature.
The Private Villa
Di Ume Suite boasts a luxury natural finished 60sqm suite on the second level with a deck overlooking the agricultural mountain. There is a private bathroom with separate sunken bath, complete with a working desk, mosquito net covering the king size bed as well as a fruit basket that gets refilled daily. Surprisingly, the villa was spotless with no insects!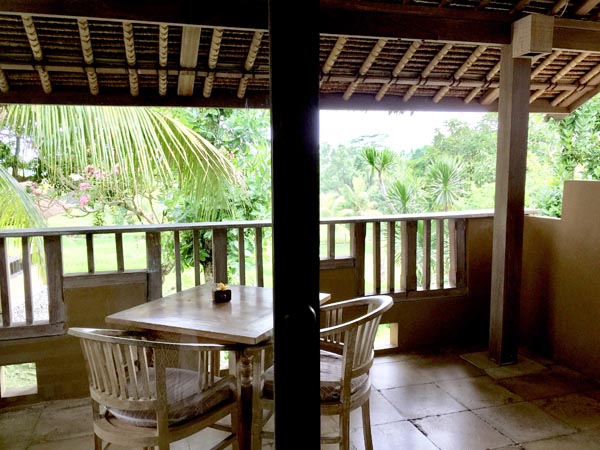 Balinese Breakfast
The complimentary breakfast featured both Balinese and western dishes. Of course, we went for the Balinese options. Indeed, the flavours were sensational, cooked with wholesome ingredients.
The Open Stage
Dining with performance used to be exclusively for the king to hosts guests at religious events. Now, we too, can sit under the stars overlooking the rice field, and enjoy a Balinese dinner cooked by a local chef. We watched traditional dances performed on the open stage.
Floating Bale
While exploring the luxurious resort land, we see Floating Bale decorated with candles and exotic flowers. This is the perfect spot to have an intimate five-star service dinner, especially for a marriage proposal! The warm tropical breeze and panoramic view of the rice paddies over sunset make the evening very romantic.
Ume Spa
A luxury three-level spa in the famous Wapa style offers a selection of treatments with natural oils and exotic perfume blends. The Indonesian herbs and spices add to the rich traditional nature of their treatments for total well being. In addition, the well-trained therapists explained each step of the treatments carefully. We settled into a peaceful state as soon as we entered the private room surrounded by the rainforest. Furthermore, you can take a dip in the outdoor natural whirlpool.
Yoga Centre – FREE
A spacious upper-level yoga room overlooking the lush green palm trees and panoramic rice terraces offers daily morning yoga. Yoga instructor Ibu Ketut teaches the ancient art of classical yoga, focusing on techniques to still our minds and strengthen the body using posture, breathing, meditation, and relaxation. The classes are suitable for beginner to advanced yogis.
Ubud Rice Fields Trekking – FREE
From time to time, a Wapa di Ume staff will guide resort guests on a walking trail explore deeper into the village, to see the local's way of life and to discover beautiful rice fields. This video says it all.
MR WAYAN Balinese Cuisine
Mr Wayan restaurant serves up authentic Balinese cuisine originated from the volcanic island of Bali. It is one of the most complex cuisines in the world using an incredible variety of spices.
To sum up our experience, Wapa di Ume is the perfect destination for Wanderlust-ers as well as an intimate wedding venue. The lush, idyllic paddy fields, with swaying palm trees and the tranquil sounds of the flowing river, makes the trip unforgettable.
WAPA DI UME RESORT & SPA – BALI
Jl. Suweta, Br. Bentuyung, Ubud 80571,
Gianyar, Bali – Indonesia
+62 361 973178 or reservation@wapadiume.com